Blacklight Dodgeball is the Latest Craze!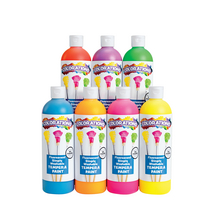 Blacklight Dodgeball games are picking up in youth groups, schools, intern-murals, and family fun centers around the nation.  With basic fluorescent balls, some neon tape for court lines and creative uniforms out of white shirts and fluorescent highlighters, anyone can take dodgeball to the next level.
Room decorations, murals, and game uniforms can be easily decorated with blacklight reactive paint.  This preparation can even be a fun additional activity prior to your tournament.  Many people think you need special "glow in the dark" paints to get the full effect under a blacklight.  The truth is, that with powerful blacklights, regular ubiquitous fluorescent paints will glow brightly.  These can be purchased at any home or craft store.
Creating bright glowing boundaries, court borders, and decorations is easy with fluorescent tape. Blacklights will make fluorescent tape glow brightly.  Most tapes marketed as neon or fluorescent will glow brightly.  These tapes are  and easy to find at any hardware, home, or craft store.  You don't need specialty blacklight tape so pick up a couple of rolls and make your dodgeball court glow.
While there are amazing fluoresce
nt dodgeballs for sale, another option is to spray paint a regular ball with fluorescent paint to make it pop.
A great tip, is to use fluorescent yellow highlighters on your skin to create invisible uniforms and decorations that will glow great under the blacklights.  This is a cheap and easy way to spice up your Black Light Dodgeball event!
For even more information on how to set up the perfect event including game rules and court layouts, visit www.BlackLightDodgeBall.com